Our Ambassadors
Jumping
Gabriele Grassi
I use Equitex while it is the best that can be put between the rider and the horse !
Simone Coata
Be it during the daily trainings or when me and my horses have to give our best at the tournaments, it has become clear that Equitex is one important detail which I don't want to give up on anymore. This detail makes a difference.
Matej Bertoncelj
Dressage
Andrea Giovannini
I chose Equitex because I was always looking for a perfect saddle pad that offers maximum comfort for my horses, is breathable and adapts perfectly to the horse's back. 
Norma Paoli
Thanks to my horses, I am who I am and it is my duty to treat them as well as possible Equitex is certainly a product that meets my requirements and differs in its properties: comfort for horse and rider, quality of the materials and, due to my discipline, elegance.
Marta Vischi
José Daniel Martín Dockx
Eventing
Stefano Brecciaroli
Why have I decided for Equitex? Because its simplicity comprises everything that I need. Excellent contact and comfort for our horse. Thank you Equitex! 
Evelina Bertoli
I rely on Equitex because it is synonymous with comfort. The backs of my racing companions are protected and the grip between saddle and horse is perfect. The materials used last over time and the style is externally elegant.
Julia Argenziano
Classic riding
Real Escuela
Since we as the Royal Andalusian Riding School practice the classical art of riding in the form of the Doma Clásica, we still do not want to do without a good saddle pad. Equitex is now part of our daily training, precisely because we also train young horses and the muscles are not yet that consolidated. 
Gianluca Coppetta
Equitex has been part of my equipment for many years. We have no problems with the muscles or the saddles with the boys, our show horses or the seniors who we work every day. Of course, the saddle has to fit perfectly! With Equitex the freedom of movement of the shoulder is even better and I and my horse feel this in our daily work.
Marc de Broissia
Equitex is really convincing. Currently I am using the saddle pad on my horse Cremello Hengst who has a very sensitive skin. Due to his sebaceous glands getting quickly blocked, I have been lately only able to use deer skin on his back . He is reacting to Equitex saddle pad very positively and I also like the way the pad fits to the back of the horse.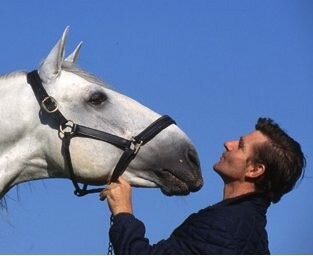 Paraolympic
Flore Espina
When you try the impossible like going to the olympics Games with an amputated leg, it's better to surround yourself with the best and have an infallible team. Equitex brings comfort and well-being to my mare and me and that gives me tranquillity. It's important to choose quality materials such as Equitex to try to reach the highest in the best conditions. Best saddlepads to dream big.
Sara Morganti
Endurance
Rebecca Arnold
My name is Rebecca Arnold , I have been a national endurance rider since 1989. Since then I have been participating in worldwide competitions between 40 to 60 km. For the last 2 years Equitex has been part of my regular equipment. The horses love it!
Livia Barbato
In endurance, whether for racing or training, many hours are spent in the saddle. Equitex can support the changes in the musculature during long rides so that there are no pressure points and the horse can develop correct muscles again and again.